It's no secret that I have less-than-pefect skin – it's red, splotchy, and oily with giant pores…but I thought I'd put the worst of acne and blackheads behind me. I'm over 40, for pete's sake! But last week I noticed a ton of blackheads on the sides of my face. I was horrified. Where did they come from? I wash my makeup brushes weekly (and I rotate through two of them during the week), and nothing in my routine has changed.
Imagine my relief when I spotted Giovanni D:Tox System Purifying Facial Cleanser at TJ Maxx. I've tried this before (the entire 4-step D:Tox system was a gift from Meg's Makeup) so when I saw it on the shelf, I snapped it up. At $6, it's a bargain and I know it works.
Typically I wash my face with an old-fashioned Dove bar. Every dermatologist I've ever seen has recommended Dove (and I've seem a LOT of derms over the years), but obviously I needed something else.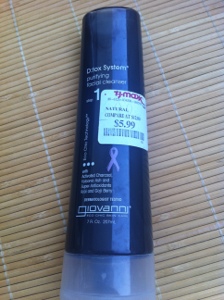 As you can see from the photo, I've already used it a couple of times. And, the horrible blackheads are almost all gone. GONE. And my face is not tight or dry at all. This cleanser is just that good. I think I should have a bottle of it stashed in my bathroom at all times for emergencies like this. If there aren't any more at TJ Maxx next time I go, I'll just order from Amazon.
Giovanni is cruelty-free, donates a portion of profits to breast cancer research, and is a local business! And it works.
Have a great weekend!