Hello readers, I'm back from my l-o-n-g business trip to Mexico and catching up on my emails and blog posts now!
I recently received an invitation to the Run10Feed10 National Charity 10K Race (I ran this last year as part of my half marathon training). Here's some info on the race and the cause (domestic hunger is actually something I worry about quite a bit)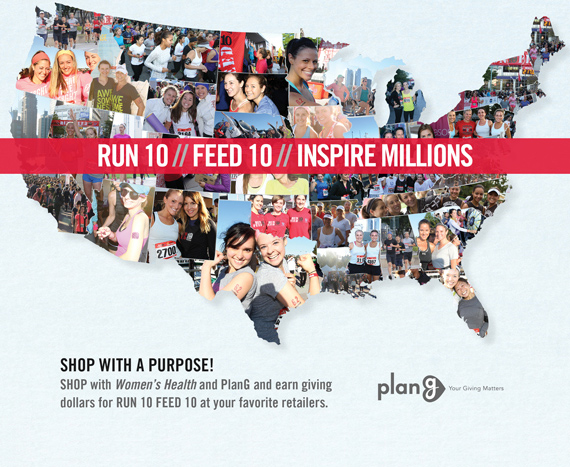 ABOUT RUN10FEED10:Women's Health and FEED are partnering for RUN10 FEED10 10K race series to motivate consumers nationwide to help fight domestic hunger. RUN10 FEED10 has raised over 2.5 million meals to support the cause, and in 2014 the bar is set even higher. The concept behind RUN10FEED10 is simple: run a 10K and feed 10 hungry people in your community. Timed 10K races will take place in New York, Chicago and San Francisco. Those living in Boston, Los Angeles, Denver, Phoenix, Atlanta, Houston, Minneapolis, and Washington D.C. can participate in one of the Women's Health "Fun Runs," and if runners don't live in one of the RUN10 FEED 11 host cities, they can still participate by registering at RUN10FEED10.com to run a 10K in their hometown. Kicking off the event series in New York City on September 21, 2014, thousands of participants will run down the West Side Highway for the timed race ending at Pier 84 at Hudson River Park. A post-race wellness festival will feature yoga sessions, nutrition, beauty consultations and great giveaways from sponsors.   The RUN10 FEED10 races in Chicago and San Francisco, and also feature a robust wellness festivals post-race. Women's Health is excited to partner with "Good Morning America," the Emmy Award winning morning show, to bring RUN10 FEED10 to households nationwide and inspire viewers to run for the cause. Chief Meteorologist, Ginger Zee, will host the New York City flagship event, running alongside the participants.www.run10feed10.com

RUN10 Cities Include:
NEW YORK CITY: SEPTEMBER 21
DENVER, CO: SEPTEMBER 27
HOUSTON, TX: SEPTEMBER 27
LOS ANGELES, CA:  SEPTEMBER 28
PHOENIX, AZ: OCTOBER 4
ATLANTA, GA: OCTOBER 11
BOSTON, MA: OCTOBER 12
WASHINGTON D.C.: OCTOBER 18
CHICAGO: SUNDAY, OCTOBER 19
SAN FRANCISCO: SUNDAY, OCTOBER 2
If you don't live in a city that's got a race, no problem! You can still do a virtual fun run on your own and get all the benefits by feeding those in your community and a limited edition FEED bag ( I got one of these last year. It's really cute).
I hope you all can participate – there are a lot of walkers and it's a really fun, non-competitive race. So it really is for everyone!
Use code R10F10PR for $5 off when you register at Run10Feed10. Let me know how your race goes!